This traditional vegetable salad is very popular in many Polish houses during Christmas period. Instant Pot allows us to shorten preparation time.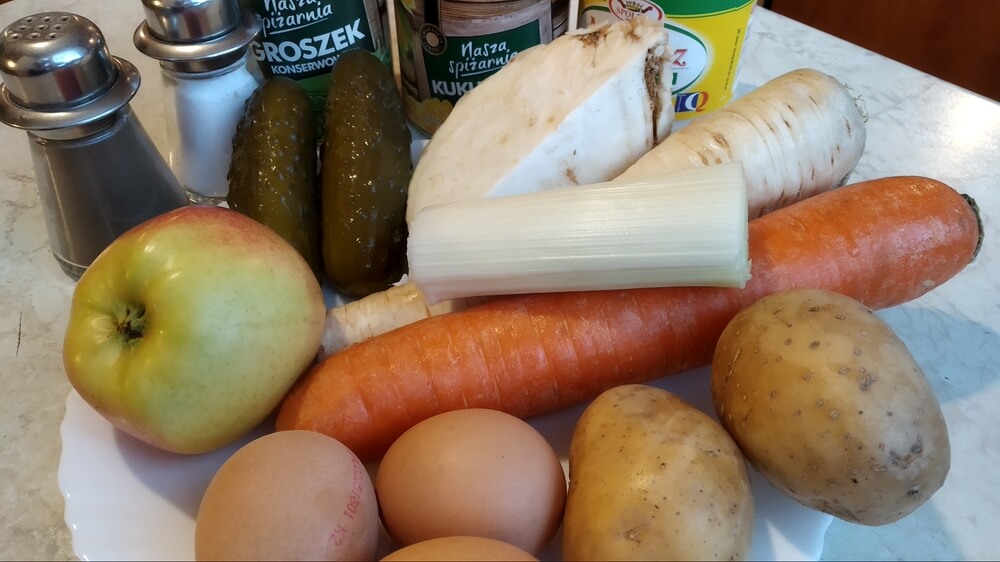 1 carrot
1 parsley root
1/4 celeriac
2 potatoes
3 eggs
1 sour apple
2-3 sour pickled cucumber
White part of 1 leek
2 tbsp of sweet corn (from the tin)
2 tbsp of peas (from the tin)
2-3 tbsp of mayonnaise
Salt
Pepper
Into IP pot add one cup of water and insert sieve which will allow you to cook vegetables with steam. Put the carrot, parsley root, celeriac, potatoes and eggs on top of the sieve.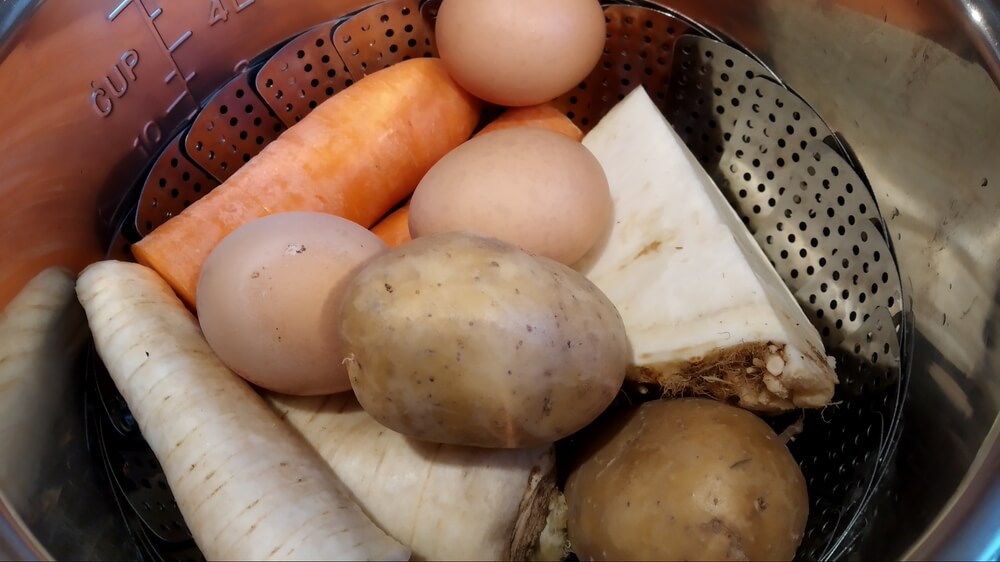 Vegetables should be average/medium size. Close the lid and set up programme Steam for 10min. During the process, prepare remaining ingredients. Cut the pickled cucumber and apples into small cubes and mix together (apples will not get black due to the acidity of cucumbers). Cut leeks into small pieces. Peas and sweet corn wash with cold water. After the programme finish, turn it off and release quickly pressure (QR) from IP. Remove the eggs and place them in cold water. Check with skewer if you vegetables are cooked.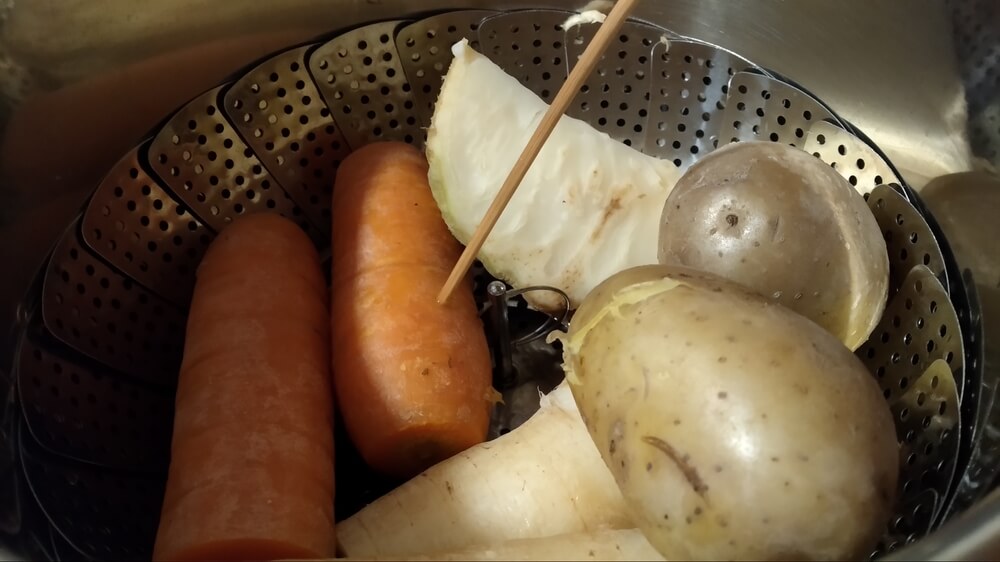 If the vegetables are a little bit hard we can either close the lid and leave them in warm for another 10 min or set Steam programme for another 2 min. Let soft vegetables to cool down then cut into small pieces. Peel eggs and also cut them.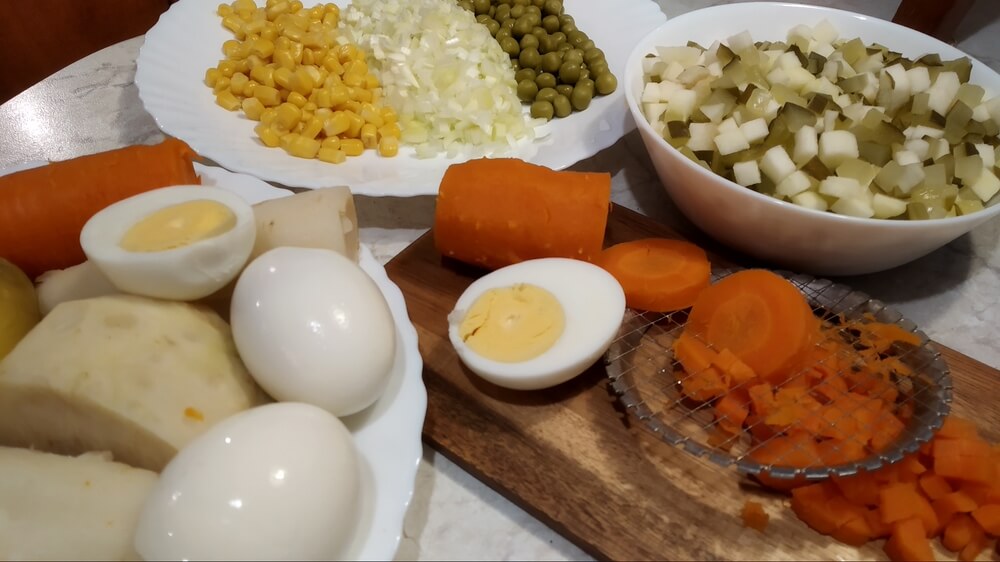 Put all the cut ingredients into a mixing bowl. Add mayonnaise, salt and pepper. Mix altogether.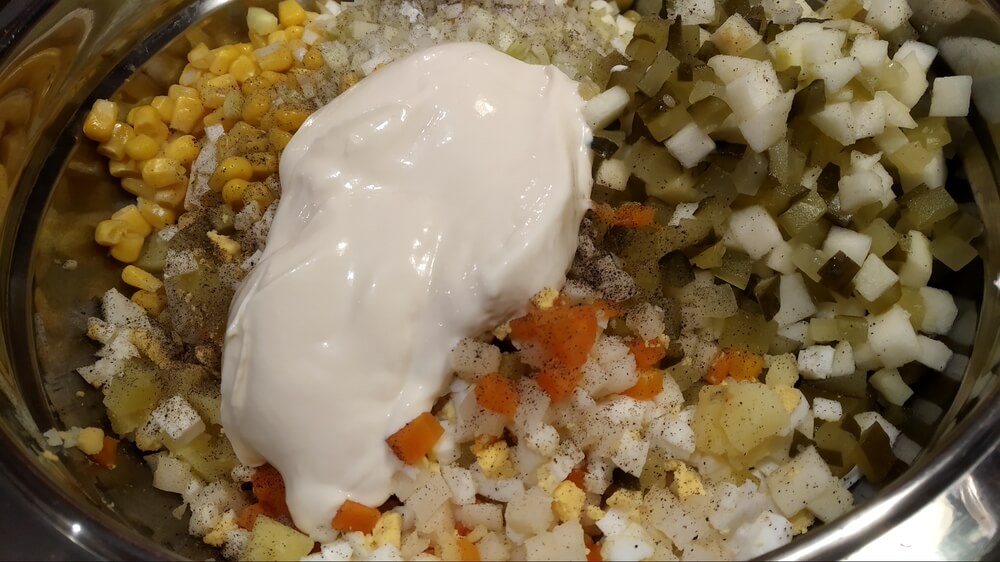 Season the salad to your taste with spices or extra cucumber. If the salad is too sour add some sugar. Our salad is ready, store in a fridge.